1 ) Who showed you this forum?
R: Blue Jay was the first player to show it to me, BITW convinced me to create an account so he could share Skyless World with me, and Sasha recently invited me into the clan.
2 ) What are your nicknames or aliases?
R: Steelskitty, Steeljackal, Steel(Parentheses), and many miscellaneous alts such as Diamondrush, iCandy, and Groudonpower.
3 ) Have you been in a clan before? If yes, which one?
R: I have not.
4 ) Why do you want to join Dragon Masters?
R: Aside from the clan invite, I am very interested in knowing what goes on behind-the-scenes around here. I have heard that these forums are a great competitive resource, and aside from that I would like to better know players such as Lance.
5 ) What is your playing level (Rookie, Intermediate, Expert, Veteran)? You can also show ladder prints.
R: I consider myself an Expert in the 5th Generation Metagame, but I still have a lot to learn in 6th Generation- I would probably be intermediate there.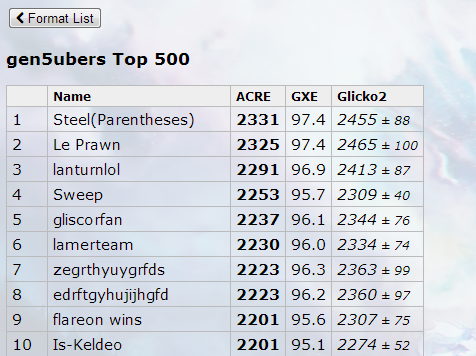 6 ) When did you started playing Pokémon?
R: I started competitively in April-May (a little hazy on the date), but I have been playing Pokemon casually since the release of Diamond.
7 ) Do you have any tournament or cup titles?
R: None, currently.
8 ) What is your favorite Pokémon?
R: Latios.
9 ) Where are you from?
R: Pennsylvania.
10 ) Do you have Skype or Facebook?
R: No, sorry.
11 ) What other online games do you play?
R: None at the moment.
12 )What is your favorite Pokémon site, forum, community?
R: Smogon for analyses and RMTs, Serebii for news.
13 ) Have you ever battled a Dragon Masters member before? If yes, then prove with logs (if possible).
R: I have battled many in the 5th generation, but possess no really good 6th gen replays:
Anikrahman1995
Polop
Hack He Must
Imma Fly
Hyw
14 ) Which server do you generally play in and what tiers?
R: I am active as a Moderator on Oriserver, where I play Pokebank OU, Random Battles, and, of course, Ubers. On the main server I play Pokebank Ubers and 5th-Generation Ubers.
15 ) What is your favorite online Pokémon battling simulator?
R: PS!
Attach the screenshot showing that you have attained the clan's entry requirement here: